A Capital Ship, formerly called a Flagship, is the most powerful ship of a faction, several times larger than any normal ship with the firepower and hull strength to match. To balance this you may only have two of them equipped at a time. Unlike other ship classes, even the smallest Capital Ship is larger than the largest Battleship. See Frigates for the smallest ship class.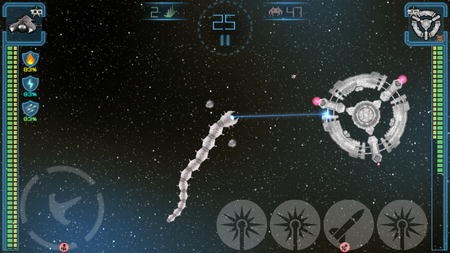 Overview
Edit
Capital Ships can be found either as random encounters at nodes or at the central node of a faction Base, one ship per each 100% of millitary power (starting from 0 Capital Ships at power < 100%). A red drone symbol inside a circle indicates a boss encounter.
Capital Ships are extremely dangerous, possessing a large amount of hit points and usually a wide array of weapons more effective than the garden variety kind. Fighting them is not recommended unless you have a large fleet or a smaller, extremely overleveled one. Beyond the first few stars, Capital Ships will always have a fleet for backup, so you not only need to survive beating it, but also its reinforcements.
Defeating Capital Ships rewards you with ~3000 - 4000 credits, a large amount of experience, research points for the faction, (star ingredients if it is a double veteran unit) and high level equipment. There are fifteen different Capital Ships, one for each faction, and two Christmas exclusive neutral ones.
Double veteran Capital Ships come with extra abilities, such as an afterburner for bursts of speed.
Specific details will be given below by faction.
List of Capital Ships
Edit
Construction Details
Edit
| Name | Workshop level | Credits | Workshop Faction | Star Material |
| --- | --- | --- | --- | --- |
| Leviathan | 140 | 772,935 | Veniri | 22 |
| Megalodon | 167 | 1,200,815 | Bushrak | 26 |
| Thor | 194 | 1,827,015 | Korerans | 34 |
| Kraken | 177 | 739,260 | Taraniak | 22 |
| Oracle | 176 | 1,201,335 | Sayjix | 28 |
| Overlord | 165 | 975,375 | Jurgans | 25 |
| Colossus | 175 | 878,460 | Zumbalari | 24 |
| Zeus | 169 | 1,252,815 | Neganari | 28 |
| Tartarus | 225 | 594,015 | Daazen | 19 |
| Doomstar | 290 | 1,460,160 | Unknowns | 31 |
| Dreadnought | 280 | 1,965,660 | The Empire | 36 |
| Chariot | 164 | 907,740 | Unaligned | 24 |
| Santa Claus | N/A | N/A | N/A | N/A |
| Wormship | 240 | 5,915,200 | The Swarm | 62 |
| Jormungand | 200 | 1,536,000 | The Syndicate | 32 |